We do send in neutral cardboard boxes or mailing bags.
There is no indication of what´s in it.
We ship with the German Post / DHL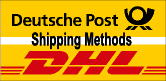 Dispatch costs (inclusive of legally applicable VAT)


Dispatch deliveries ( Germany)
We charge a flat shipping fee of 3,99 Euro per order.

Deliveries to foreign countries:
We charge the shipping costs for deliveries to foreign countries on the basis of the shipping weight:
Till 0,5 Kg = 6,99 Euro
Up to 0,5 Kg = 11,00 Euro
The total weight of the order consists of the goods weight + 0,1 Kg packing surcharge.
Dispatch Conditions:
Domestic delivery (Germany) and neighbouring countries:
Belgium, Bulgaria, Denmark, Estonia, Finland, France, Greece, Great Britain, Ireland,
Italy, Croatia, Latvia, Lithuania, Luxembourg, the Netherlands, Austria, Poland, Portugal, Romania,
Sweden, Slovakia, Slovenia, Spain, the Czech Republic, Hungary.
Dispatch shall not be made to the following foreign islands:
Färöer , Greenland , france overseaareas and departments, great britains canal islands ,
Livigno and Campione d'Italia,Netherlands areas out of europian.

Delivery Periods
Unless otherwise specified in the quote, domestic delivery of the goods shall be made ( Germany ) within 2 - 5 days,
for deliveries abroad within 3 - 7 days from conclusion of the
contract (if advance payment agreed from the date of the payment instruction).
Please note that deliveries are not made on Sundays and other holidays.
If you have ordered articles with different delivery dates, we send the articles togehter in one delivery
if no other agreement has been made. The delivery date for the complete order will be
the same as that of the article with the longest delivery time.

Terms of Payment

For domestic deliveries ( Germany ) the following payment options are available:
- Payment via Paypal
- Payment via credit card (Secupay)
- Prepayment via banktransfer
- Payment via Barzahlen
- Payment via amazon pay

In case of deliveries to a foreign country, you have the following payment options:
- Payment via Paypal
- Payment via credit card (Secupay)
- Prepayment via banktransfer
- Payment via amazon pay

Pay with Paypal
Paypal is the online payment service, with which you can pay in online shops easy, safe and quick.
For you as a buyer, is this service free, whcih means that Paypal will not charge you with a fee.
Safe: Your credit card or banking data are stored at Paypal. Therefore, these data are
not send with every online purchase over the internet.
Easy: Two clicks and then pay. So you could use your deposited credit card or banking data at paypal,
instead of entering them again with every purchase. In the shoppingcart you will find a
paypal button which connects you directly with your account or use in the shoppingcart the checkout button
forward to the selection of the payment options. There select Paypal.
Fast: The Paypal payments reach us fast. So the Strumpfoase can ship quickly.
Note for payments by using the"Check out with Paypal" button.
After clicking this button, you will be forwarded to Paypal.
At this time, the shipping costs are not added to the goods value, because the system does not
know your shipping address. Log into Paypal, select the shipping address and authorize the payment.
Then you will be redirected back into the shop, where you could complete your purchase
by going through the checkout and clicking the "Buy" button.

Pay with Credit Card
Pay easy and comfortable by credit card, we accept MasterCard and Visa.
Your credit card data will not be send to strumpfoase or stored at strumpoase. After click the "buy" button
you get transfered to site of the Secupay AG . There you have to enter your Creditcard data(SSL secured).
The debiting of your bank account or credit card account takes place upon completion of the order.




Pay By Moneyorder / SEPA Payment
At the end of the order process, you will get the bankdata for the money transfer via E-Mail.
Please give us your correct Email address, so that you receive this data flawless.




Pay for your purchase safely with cash, without any transfer of sensible financial data.
With Barbezahlen after ordering , you will get automaticly a payment form with a Barcode send to
your email account, which you could print it or sent it as a SMS onto your cell phone. Thereafter you pay for your
purchase at a Barzahlen partner store in your area,
e.g. at the Rewe markets, dm-drogerie markets, the supermarkets of the real,- SB Warenhaus GmbH
or the stores of mobilcom-debitel.
The nearest store in your area, you will find here: (https://www.barzahlen.de/de/kunden/filialfinder).
The Barzahlen-Partner stores transmits the payment confirmation in real time,
thereafter the shipping process starts immediately and
the order will be shipped to that delivery address , which you have given us.
Amazon Pay

Pay by Amazon Payment
If you use Pay with Amazon , you do not need to create on strumpfoase.eu an
account , you can pay directly with the data from your Amazon account.
Into the shopping cart simply click on the button "Pay with Amazon".
Right after that, you select your payment method (eg. Credit card or debit)
and the shipping address of your deposited data at Amazon and complete the purchase.
Comfortable and fast
At strumpfoase.eu you must not enter payment- and address details,
you can buy directly with the deposited data from your Amazon account.

Reliable
Buyer Protection with the Amazon A-to-z Guarantee.
If you use "Pay with Amazon" , Amazon provides you the A-to-z guarantee
for the condition of the purchased goods and a speedy delivery.

Familiar
With "Pay with Amazon" is the same familiar payment environment available like at Amazon.
More information and your order history to "Pay with Amazon" can be found here
or click on the Amazon banner.

Available
This payment methode is only available for customers with a EU shipping addess.
See above in the image "dispatch shall be made to these foreign countries" , there you will see which
countrys are allowed to pay mit Amazon Payment.